Not Your Daddy-O's Jazz!
All your favorite tunes with a dynamic jazz vibe!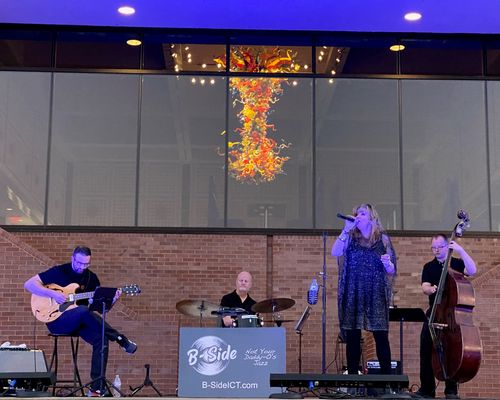 What People are saying... 
"B-Side and Taste of Jazz Sunday was a great evening! I want to thank you all for the great performance! I counted 208 people in the crowd that evening. That's a nice size crowd for a Sunday night. The audience really loved the performance!" 
Mat Buckingham - Curator of Education, Wichita Art Museum
"This is wonderful! It's more than background music, which is what I think when I hear the word 'Jazz'.  Great tunes! It's fun and lively, but you can enjoy a conversation too."  
Nancy and Bill - Ya Ya's guests
"What an incredible performance! The music was amazing and yet, it's so much more than a band! Christi  crafted the show to fit our group perfectly and brought an energetic interaction that had our audience in stitches! Featuring the B-Side made this one of our most popular events to date!" 
Mark Bretches - Manager, Wesley Friends 
"It was great having the B-Side as part of our Benefit! You have a very special take on terrific music. I loved hearing songs I grew up on with a new sound played by very talented musicians. You also helped us raise money for a very important cause. Can't wait to hear you again!" 
C. Willett - Leukemia 'BENefit' Fundraiser